More than a century of experience in jewel-processing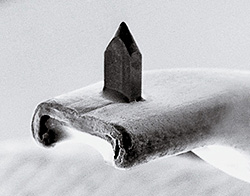 Since having succeeded in machining jewels for discharge aiming device in 1894, OGURA has produced industrial jewel parts over a century. Since the company's foundation, we have produced mainly jewel bearings, and after the world war the second, along with development of music record, we produced sapphire and diamond styli for recording and playing. Now, based on our technology of precision machining with long experience by making the most advantage of properties of jewel materials, OGURA is providing products to all industries such as machining tools and semiconductors.
Advanced micro machining technology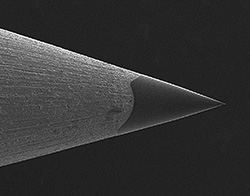 Based on fusion between our tradition of precision machining technology we have built up over a century and technology of processing tip end, we established our own micro-machining technology.
Especially, technology of sharpening tip-end based on combined technology of production of record styli as our core technology with processing tip-end makes processing R of tip end at nanometer level and accuracy of the shape possible.
And the technology of machining jewel bearings we have been engaged in since the foundation combined with advanced technology is applied to various kinds of products as precision machining technology of perforation to cope with µ m level orders. If you have difficulties in micro precision machining, please contact us.
Technology of processing hard brittle materials
OGURA is good at machining crystal materials like jewels and brittle materials based on our experience in machining of industrial jewels since our foundation.
We have lots of experiences in machining of cutting resistant materials like noble metals.
Hard brittle materials OGURA has experienced in processing
Single crystal diamond, sintered diamond, CVD single crystal diamond, CVD polycrystalline diamond, sintered CBN, single crystal SIS, silicon nitride (Si3N4), sapphire (Al2O3), ruby (Al2O3+Cr2O3), alumina nitride (AlN), alumina ceramics (Al2O3), zirconia ceramics (ZrO2), conductive zirconia ceramics, lanthanum hexaboride, YAG single crystal, quartz (silicon dioxide, SiO2 natural stone), glassy carbon, single crystal zircon, polycrystalline zircon, carbon, ferrite, neodymium magnet, etc.
Cutting resistant materials OGURA has experienced in processing
Pure tungsten, wye tungsten, iridium, platinum, palladium alloy, 18 karat gold, Inconel, titanium, copper-tungsten, super Invar, kovar, perm alloy, cermet, various cemented carbides, etc.
Diamond tools supporting processing
Very hard jewel materials like diamond and difficult to process.
We developed our own diamond-wheel for grinding. It is demonstrating excellent performance in grinding extra hard materials and also supporting our precision machining in our own factories.
And the grinding wheel based on our own accumulated processing results is well received by customers especially for machining of PCD/PCBN.
Our staff knows machining very well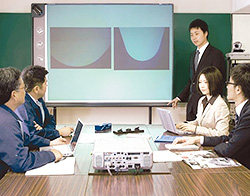 Our staff is very familiar with processing always makes sure of customers' requirements and problems by hearing them, and think over specifications and solutions together with customers to meet usage and conditions, so that we are manufacturing (MONO ZUKURI) together with customers.
Very difficult problems can be solved by experts in unified body from sales, technical and factory with ample of experiences, newest equipment and tools of inspection and analysis.