Property of sintered diamond
Composition
C + binder
Structure
Sintered compact
Mechanical property
Tensile strength: 1.3GPa
Bending strength: 1.1~2.6GPa
Compressive strength: 6.9~7.6GPa
Young's modulus: 776~920GPa
Hardness: HV 6,000~12,000
*Value for reference
Feature

High hardness because of sintered particles of diamond, the hardest material on the earth.
Excellent wear and abrasion resistance property.
Possible to use large area which is difficult for single crystal.
Electrical discharge machining is possible as it is conductive due to binding metal.
High thermal conductivity.
Isotropic and uniform properties in all directions because of polycrystalline structure.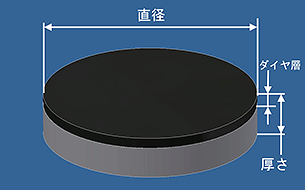 sintered diamond(PCD)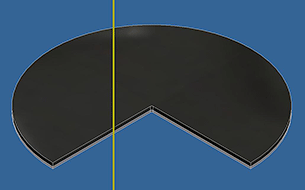 used in cutting by EDM machine
Sintered diamond (PCD) is a polycrystalline material by sintering diamond particles with metal binder at high temperature under high pressure. And it is made by cutting to a designated size out of a disc formed by diamond layer on a base of tungsten carbide.
As a size of single crystal diamond is limited, it is suitable in case a large area is required. Furthermore, conductive PCD makes EDM machining possible, and as its shape is relatively flexible, processing variant forms is possible, which is difficult for single crystal.
Date of processing sintered diamond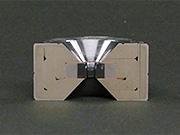 Sintered diamond
PCD four-sided hole dies - half-cutting picture
Polish inner surface of hole of PCD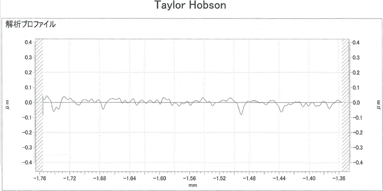 Roughness of inner surface of PCD four-sided hole: Ra0.0153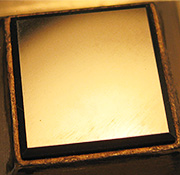 Lapping PCD
Polishing up flat surface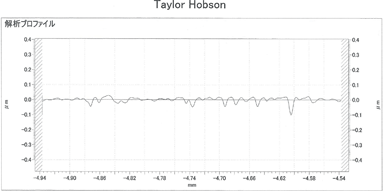 Polishing flat surface: Roughness of the surface Ra0.0113
Sintered diamond – Examples of usage
Diamond blasting nozzle

Basting nozzle which hole is made by sintered diamond with excellent wear and abrasion resistance.

Various tools

Adhesive nozzle, positioning nail, cutter, etc.