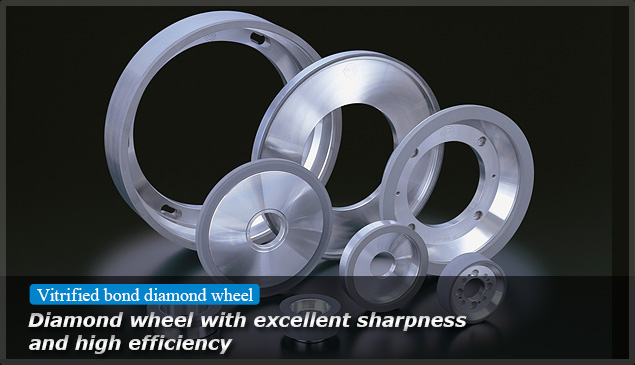 OGURA developed EARNESTBOY, vitrified diamond wheel, based on our long experience as a top-rank manufacturer of diamond styluses for record players.
2. EARNESTBOY has an excellent grinding ability to grind very hard diamond. Its stable life time without fluctuation by layer makes automation by NC grinding lathe easier.
Feature
High quality edge

Permit the very low degree of edge chipping of 5μm or less.
The flank does not become convex and it makes a facet clear.

Increased dimensional accuracy

Because of no fluctuation by layer and stable lifetime, you can finish as planned dimension. It's suitable for NC grinding machine.

Short grinding time

Since cutting ability is excellent, tools can be machined quickly.

Reduced cost

Since grinding ratios are high and grinding time becomes short, costs in total are reduced.
Uses
| Uses | Material |
| --- | --- |
| Tools manufacturing (regrinding) | PCD (polycrystalline diamond), PCBN (polycrystalline cubic boron nitride), Cemented carbide, Diamond, CVD Diamond. |
| Precision parts grinding | Sapphire, Ruby, Quartz, Glass |
PCD/PCBN Grinding
Wheel selection
PCD
Intermediate
SD800N160V
Finish
SD1500N160V
PCBN
Intermediate to finish
SD800N100V
Grinding machine
Tool grinding machines
Cylindrical grinding machines
Surface grinding machine and other grinding machines
The higher the rigidity of the machine, the better to finish. Even regular grinding machines produce excellent cutting results.
Grinding conditions
Peripheral speed
800~
1200m/min
Increasing the peripheral speed reduces wheel wear, but degrades free cutting ability, and vice versa.
Feed rate (ex.)
inter mediate
0.15mm/min
Excessive feed rate may increase the degree of chipping of the tool edge, or overload the wheel surface, thereby waste the wheel.
finish
0.1mm/min
Dressing
Dressing stick
The wheel should be dressed continuously or intermittently. In PCD/PCBN grinding, there are virtual no chips, so the wheel surface tends to become glazed, make dressing essential. Optimized dressing provides consistently high cutting ability, and reduces unnecessary wheel wear.
Truing
Green Silicon Carbide
Truing is required when the wheel is mounted on a grinding machine. We recommend using a drive-type truing/dressing device.
Grinding fluid
Water-soluble Grinding fluid
Grinding must be conducted with full-flood grinding fluid (coolant) at the grind zone. Otherwise, the workpieces may burn, etc. If oil grinding fluid (coolant) is used, take precautions against fire.
Grind PCD performance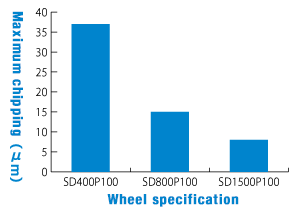 Grit size and maximum chipping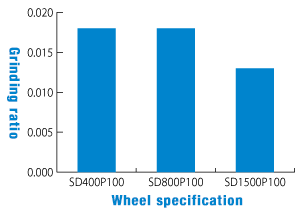 Grit size and grinding ratio