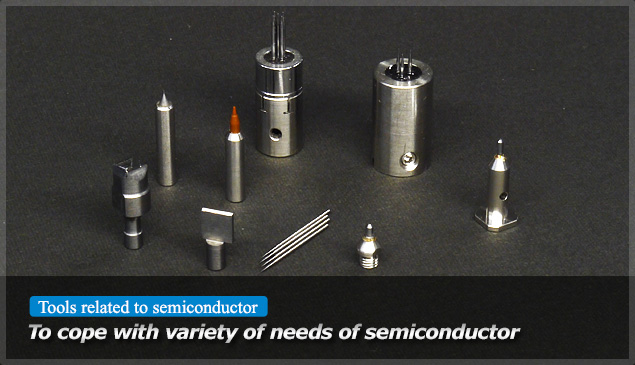 In the process of producing semiconductors, there comes variety of needs up like minimizing chips and thinning them to the maximum, and variety of precision tools are used in the production process.
By making the most of our technology of precision machining high hardness materials, OGURA is providing the most suitable precision tools to diversified semiconductor industry. And the technology is utilized at expanding industries of LED and liquid crystal which is requiring higher definition.
Push-up pin-Probe needle
Push- up pin is a needle-shaped pin to pick up chips from dicing table in the production process of semiconductors. Its tip is so polished that damages of chips should be reduced. The material is usually tungsten carbide, but tip can be diamond which should be applicable to especially for LED chip of sapphire base board.
Probe needle is a needle for inspection and measurement for semiconductors. Its tip is made to be processed to R with high precision and will make measurement stable. The material is usually tungsten carbide, but special material like palladium alloy, etc. are applicable.
Features
Tip R is polish up and reduces damages to chips when contacted.
Processing R with high precision makes measurement stable.
Diamond, palladium and other materials are applicable.
Standard shape

Standard specification
Outer diameter(

φ

D)
Length(L)
Angle of tip end(θ°)
Tip R(SR)

φ

0.3
10~30L
10°~30°
5~250µm
(Both no taper and full R are possible)

φ

0.4

φ

0.5

φ

0.65

φ

0.7
* Production with other sizes than the above is possible. Minimum lot to order: 10 pieces
Push up pin unit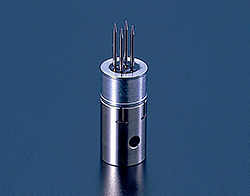 By unitizing push-up pins for die bonding, adjustment of height of tips is not required anymore, and working efficiency is improved accordingly. Worn units can be easily exchanged without disassembling.
Specification and size of pitch can be customized in accordance with the chip size as used by customers.
Features
Restraining dispersion of height of tips, to secure high precision of pitch.
Specification and pitch precision can be customized.
Working hours are reduced when exchanging push-up pins.
Die collet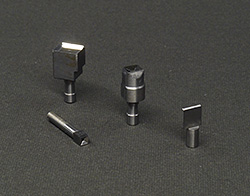 Die collet is used for absorbing picked up chips by push-up pin, moving the chips to lead-frame or making eutectic connection of them.
OGURA has actual experiences to produce collets of tungsten carbide according to applications of various shapes like pyramid and 2 sides-flat.
And for chips with problems of chipping, for example, flat collect of polyimide resin with heat resistant property is provided to reduce burden of damage to chips.
Features
Actual production results of various shapes like pyramid, 2 sides-flat, etc.
Solid absorbing with high precision is possible.
Production of flat collect of polyimide resin other than tungsten carbide is possible.
Dispenser nozzle
This is a discharging nozzle used for a dispenser which discharges fluid with a designated amount.
Polished up tips and inner shapes with high precision with excellent liquidity make it happen to discharge a designated amount with high precision.
Features
Inner shape with excellent liquidity.
Stable discharging amount by a high precision tip and an inner diameter.
Improvement of throughput by stable discharge can be expected.