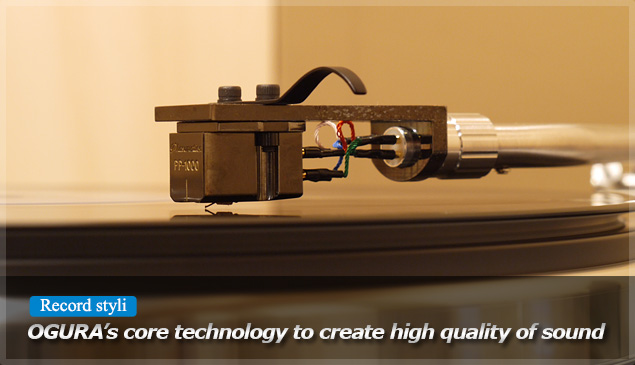 In 1947 OGURA received orders of sapphire-cutter recording styli and styli for players (Sapphire record styli) from NHK. In 1948, OGURA already started developing and selling diamond record styli for players, and for more than 60 years we have been being producing record styli. To audio-manufacturers we have supplied as OEM base. In the past, OGURA's market share was more than 70%. Now, we don't sell record styli directly to customers as end users, however, have been continuously supplying to each audio-manufacturer.
OGURA is producing consistently record styli, cantilevers of mainly aluminium, boron and diamond, connecting to styli and connecting styli to cantilevers till winding coils.
Size of diamond styli is very minute; 0.07 mm at the smallest, and we are processing that minute diamond to shape of stylus and assembling them.
This technology of polishing styli and micro processing precision technology are utilized to our other products as our core technology.
Features
Minute diamond styli pick winding soundtrack.

Used for moving coil type of cartridges of mid and high class.

Tip end of diamond is polished with elliptical shape by excellent radius of curvature.

With the elliptical shape, soundtrack and styli are close to line contact, and traceability is improved.