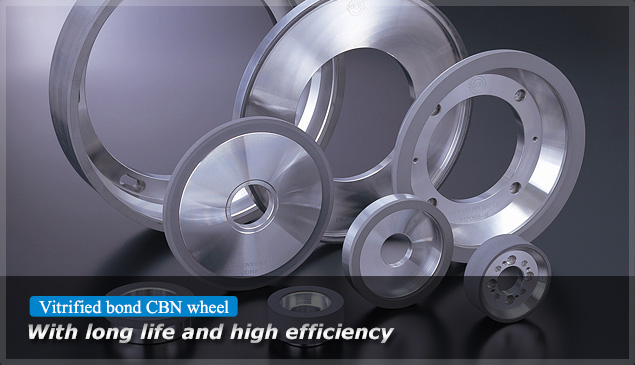 1. CBN EARESTBOY, Vitrified bond CBN wheel, is a highly valued diamond grinding wheel for PCD/PCBN materials. CBN EARNESTBOY is developed based on our EARNESTBOY. CBN EARNESTBOY is non-porous. However, the formation of adequate chip pockets, because of moderate bond wear, allows chips excrete. This new feature permits continuous grinding with long interval dressing. As a result, wheel condition is readily achieved.
2. CBN EARNESTBOY contains chemically bonded abrasive grits. Therefore, the increased grit retention prevents wasteful grain and pulls out for better grinding ratio and lower costs. Furthermore, the need to correct machining dimensions is reduced by the minimized wheel wear. The Vitrified bond has higher rigidity than resin bond, proving high-accuracy machining.
Feature
Eliminate thermal damage

Due to the excellent cutting ability, thermal damage to metal workpiece is eliminated. When a CBN wheel is used for grinding, compressive stress remains on the workpiece surface. Both strength and wear resistance are improved, in comparison to grinding with a conventional wheel.

Easy automation

Since the minimization of changed in wheel shape reduces the need for dressing, automation is easier than when using a conventional grinding wheel.

High-accuracy grinding possible

High-accuracy grinding is possible because there are minimized wheel wear and high rigidity.

Tough materials are machinable

Even difficult-to-cut ferrous materials that cannot be readily grounded by diamond or conventional wheels, can be grounded by CBN wheels.

Cost reduction per piece

The high grinding ratio reduces the wheel cost per workpiece. Savings are also produced by less frequent dressing/truing. Rejects and regrinding are both reduced due to high-accuracy.
Uses
Uses
Materials
Machinery grinding
Parts grinding
Tool grinding
Carbon steel for machines structural use
Carbon steel
S _ _ C
Alloy steel for machine structural use
Chromium steel
SCr
Chromium molybdenum steel
SCM
Nickel chromium steel
SNC
Nickel chromium molybdenum steel
SNCM
Aluminum chromium molybdenum steel
SACM
Tool steel
Carbon tool steel
SK
High-speed tool steel
SKH
Alloy tool steel
SKS,SKD,SKT
Stainless steel(martensitic)
SUS
Heat-resistant steel (ferritic or austenitic)
SUH
High-carbon chromium bearing steel
SUJ
Spheroidal graphite cast iron
FCD
Unsuitable for untempered soft iron
Instructions
Grinding machine
Surface grinding machine,
Cylindrical grinding machine, etc.
CBN wheels can be used with regular grinding machines that use conventional wheels.
Grinding conditions
Peripheral speed
1500~
2000m/min
Do not exceed the maximum peripheral speed specified in the instruction slip.
Feed
Reciprocating grinding
10~20µm
Excessive feed will overload the abrasive and cause problems like grit pull out or breakage.
Increasing the peripheral speed and decreasing the feed will reduce the abrasive load and maximize useful life.
Creep-feed
grinding
3~4mm
Dressing
Dressing stick
Dressing is required at the beginning of wheel use, and when the wheel surface is glazed or loaded up.
Dress with an aluminum oxide dressing stick or an aluminum oxide grinding wheel. When grinding conditions are ideal, chips wear the wheel bond gradually, eliminating or reducing the need for dressing.
Truing
Silicon carbide grinding wheel
Truing is required when the wheel is mounted on a grinding machine.
We recommend using a drive-type truing/dressing device.
Coolant
Water-soluble coolant
Grinding must be conducted with full-flood coolant at the grind zone. Otherwise, the workpiece may burn, etc. If oil coolant is used, take precautions against fire.