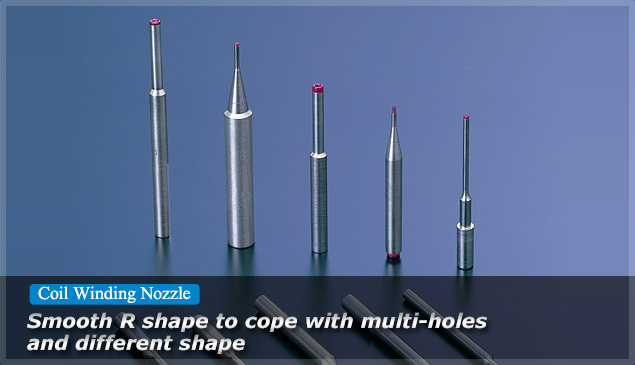 As enameling wires run through inside of winding nozzles and coils are wound, a bad shape of nozzle causes damage on insulating film. Damaged wire leads to decrease of reliability of electronic instrument. Therefore, OGURA makes smooth R shape and polish it from inside diameter till tip of nozzle.
1. We contribute to improvement of reliability of electric parts by providing high-quality ruby type and tungsten type nozzles to the market.
Standard Specification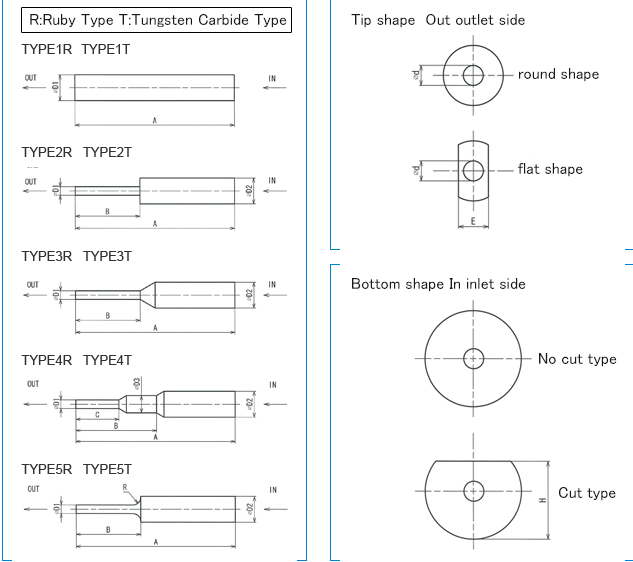 Feature
Shape and Finish
The shape of tip and the shape of the wire entrance have a smooth radius to prevent scratching the insulative coating while winding the coil. Furthermore, those places have also been polished to a high precision to avoid occurrence of scratch.
Ruby Type
The Ruby Type, which is a single crystal, has excellent wear resistance due to less frictional resistance. This minimized damage to the insulative coating during the coiling process.
The metal body is made from a single piece of stainless steel pipe, so there are no differences in height at the joint, and the wire can smoothly travel from the inlet to the outlet.
Tungsten Carbide Type
The tungsten carbide type can be safely operated continuously while maintaining a set gap between the coil and the nozzle so that the tip is not bent even if there is additional loading while winding the coil.
If the nozzle and the coil hit each other due to wrong operation and setting error, the nozzle will break without bending, which will result in the wire breaking and the coil winding machine automatically stopping. This will avoid producing defective coil caused by winding bent coil.
Capable of making smaller nozzle tip outer diameters which are required to make precision electronic components more compact.
It is made from a single piece of tungsten carbide, so that there are not height difference at the joints, and therefore, the wire can smoothly travel from the inlet to the outlet.
Standard Specification
Ruby Type
Tungsten Carbide Type
Type
1R,2R,3R,4R,5R
1T,2T,3T,4T,5T
Minimum inner diameter of tip

φ

0.2mm

φ

0.2mm
Minimum outer diameter of tip

φ

0.7mm

φ

0.5mm
Outer diameter of mount

φ

2mm,

φ

3mm,

φ

4mm

φ

2mm,

φ

3mm
Total length
10mm~50mm
10mm~50mm
Structure
Ruby + Stainless pipe
Tungsten Carbide single piece
Use
Various kinds of relays
Small transformers
Ignition coils
Micro-motors
Magnetic head coils
Winding coils chip conductors
OA equipment
Solenoid
Fly-back transformers
Sensor coils
Stepping motors
Magnetic coils
IT telecommunication equipment coil
Special nozzle
Other special specifications than standard ones can be made.
We have experienced in oval shape nozzles, multiple hole nozzles, carbon tool steels and high speed steels.