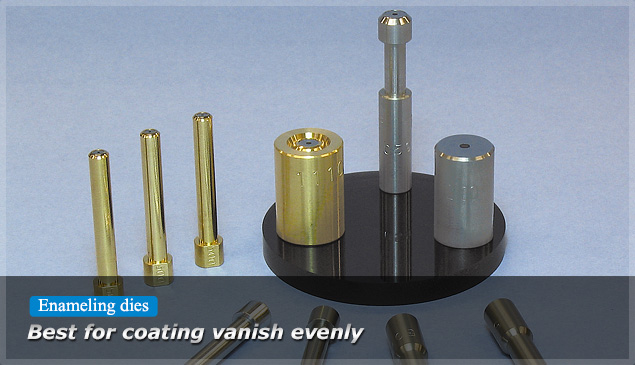 Regarding electric wire for winding, so called magnetic wire used for electronic equipment, there is a type of enameling wire with insulating film. Enameling dies are used to coat insulating vanish evenly to outer round of wire when producing enameling wire.
Along with development of electronic instrument, improvement of quality of enameling wire is called, needs to coat insulating film more evenly come up.
Standard shape
For horizontal furnaces
(Tungsten Carbide Tip type)
For vertical furnaces
(Tungsten Carbide tip type / one piece type)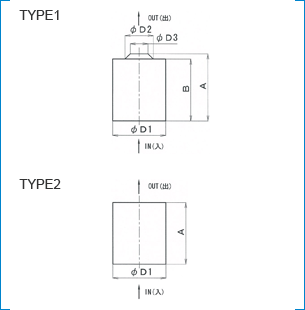 Feature
Materials are tungsten carbide tip type and one piece type

The minimized resistance, as the inside surfaces are highly polished, allows the insulating varnish to flow smoothly.

The profile of the approach is the optimal design for assuring stable wire positioning at the center of the bearing.

The minimum bearing diameter is capable of manufacturing enameling wire with diameters as fine as 0.05mm.
Advantage
High precision dies mean improved uniformity of insulation thickness and evenness.

There is a minimum variation in the precision of the outside diameter of the finished product after enameling is completed.

There is a minimum leakage and breakages due to blisters are reduced.
Standard Specification
For horizontal furnaces (tungsten carbide tip type)
Bearing diameter:0.05mm-1.60mm (diameters lager than 1.60mm can also be discussed)
Bearding diameter steps: 0.005mm
Body material: Brass/SUS304
For vertical furnaces (Tungsten Carbide tip type)
Bearing diameter: 0.2mm~2.6mm (Diameter larger than 2.6mm can also be discussed)
Bearing diameter steps:0.01mm
Body material: Brass/SUS304
For vertical furnaces (one-piece type)
Bearing diameter: 0.2mm~2.6mm (Diameters lager than 2.6mm can also be discussed)
Bearing diameter steps:0.01mm