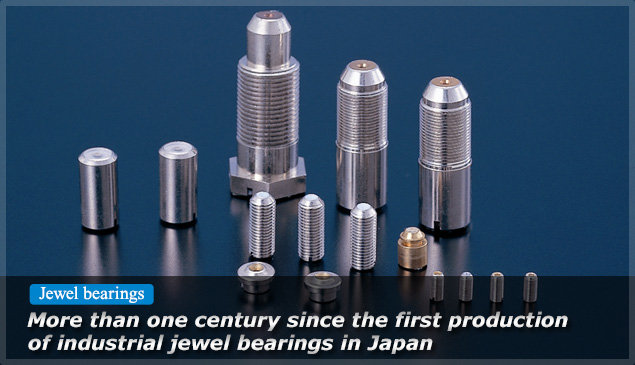 OGURA has been producing jewel bearings for more than a century since the company foundation. In 1917, we started producing bearing of sapphire and ruby, and during the world war the second produced jewel bearings for meters of aircrafts and vessels as an appointed factory controlled by army and navy. And till now OGURA has been producing jewel bearings for watt-hour meters, electrical indicating meters, water flow meters, etc.
Jewel materials like sapphire with excellent abrasion resistance, low wear coefficient and also lessened heat deformation are suitable for measurement instruments which need stable measurement for long time. For example, watt-hour meters with jewel bearings are used free of maintenance for 10 years.
Sapphire bearings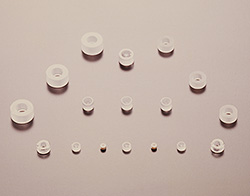 Sapphire bearings polished with high precision have remarkably low friction resistance and will not lose lubricating properties for long time use even without oiling.
There are various shapes of sapphire bearings depending on usage.
V type bearings are preferably used as bearings of highly sensitive measurement instrument with light load and also used under rotating system with minute load. Cup type bearings with a concave surface hemisphere side can have large connecting area, so that it is suitable when using a shaft with load. Ring and flat types of bearings are also available for wide usage.
Features
Bearings are polished with high precision.
Low friction resistance.
Can be used for a long time even without oiling.
Processing various types of shapes is possible according to usage.
Basic shapes
Cup type

V type

Stone hole

Cup + hole

V + hole

Flat stone
Usage
Watt-hours meters, electrical indicating meters, rotating system of water flow meter.
Rotating system of aircraft meters.
Rotating system of ship compasses,etc.
Zirconia ceramics bearings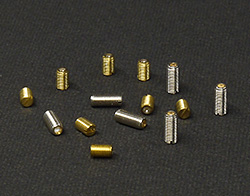 As to OGURA's zirconia ceramics bearings, V type bearings of zirconia ceramics is put into a screw.
For screw type, there are a fixed (F) type and a floating (WP) type with spring-washer, and F type is for usual use and WP type is used in situations of vibration and shock.
Zirconia ceramics bearings are polished up with high precision like sapphire bearings and can maintains lubricating rotation.
Features
Polished up with high precision same as sapphire bearings.
Besides fixed type, floating type is available in situations of vibration and shock.
Available at lower price than sapphire.
Basic shapes

Standard specifications
[Screw type]
| | |
| --- | --- |
| F | Fixed screw |
| WP | Floating type with spring-washer |
[Fixed screw]
Product number
Screw
Outer diameter of
bearing stone(mm)
M
Pitch(mm)
Length(mm)
VZF203012
2
0.25
3
1.2
VZF204012
2
0.25
4
1.2
[Floating type]
Product number
Screw
Outer diameter of
bearing stone(mm)
M
Pitch(mm)
Length(mm)
VZWP204012
2
0.25
4
1.2
VZWP205012
2
0.25
5
1.2
Common spec.
Washer
Coil spring
Hole diameter
(mm)
Thickness
(mm)
Fixed
number
(g/mm)
Starting load
(g)
stroke
(mm)
0.9
0.3
40
15
0.9
[Shape of bearings stone]
φ

D(mm)
T(mm)
θ(°)
R(mm)
P(mm)
1.2
1
85
0.08
0.4